| | |
| --- | --- |
| Our Mission: | To reduce your personal and business risks by deriving action items from recent news stories. |
Note: Brent LaReau is your point of contact for this blog.
« Previous 10 | Next 10 »
018

A Web Site Can Reset Your Samsung Phone to Factory Defaults
Permalink Brent LaReau, designsbylareau.com
Posted: Oct 12, 2012
The headline shown above seems too extreme to be true, doesn't it? But in fact, if you are reading my blog on a specific type of Android phone made by Samsung, I could have instantly "wiped" your phone RIGHT NOW by simply embedding a specific "USSD" code here. You wouldn't even have had time to read these sentences. Instead, your phone would have begun to reset itself as soon as it loaded this web page. When it was finished you would have found:
Your text messages were deleted.
Your installed apps were gone.
Your contact list (address book) was empty.
Your photos were missing.
Your e-mail messages were erased.
Your Wi-Fi network passwords were forgotten.
Etc.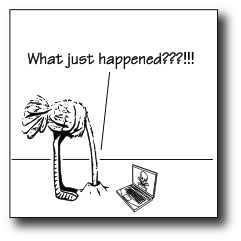 (You can see all of my cartoons here.)
Fortunately, not all Samsung Android phones are vulnerable to this attack. Full details are not yet known, but at least we know the following Samsung phones are vulnerable:
---
017

Malware Can Now Infect Virtual Machines That Aren't Running
Permalink Brent LaReau, designsbylareau.com
Posted: Sept 19, 2012
I have lots of virtual machine (VM) files on various computers and external hard drives. VMs are incredibly useful for developing and testing software; for evaluating different operating systems (even Android!); and for learning how to install and configure applications before installing these "for real".
But ever since I started using VMs I've been concerned about malware infections. As far as malware is concerned, attacking a running VM is no different than attacking a running physical computer. Therefore, a running VM suffers the same infection vectors as a physical computer:
Network (targeted by worms)
Files (targeted by viruses)
Web browsers (targeted by malicious web site content)
Etc.
But now we have another infection vector to worry about: a new strain of malware called "Crisis" has been identified that can find and infect virtual machines that are not running.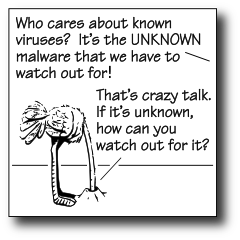 (You can see all of my cartoons here.)
---
016

Mom Changed Her Kids' Grades in School's Computer and Accessed School Employees' E-mails and Personnel Files
Permalink Brent LaReau, designsbylareau.com
Posted: August 1, 2012
When I read the news story that prompted me to write this blog entry, I thought, OK, how many times do we need to read about something like this, to finally realize that apparently anyone—even fairly average 45-year-old moms—can and will gain unauthorized access to someone's computer system? We should ask ourselves this question: "What makes me think that one of my employees—or their moms or sons or cousins—won't gain unauthorized access to my computer systems even once, let alone 110 times like this mom did?"
I used to think people won't break into computers because it's unlawful and just plain wrong. But that didn't stop this mom, who later agreed her actions were unethical but she didn't think they were illegal.
And, if we ignore the human factor for a moment, do we really think that our small business computers are somehow magically more secure than those owned by Northwestern Lehigh School District (which is where "mom" worked)?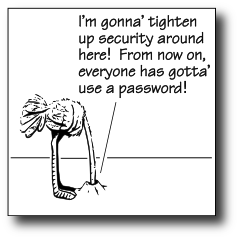 (You can see all of my cartoons here.)
Let's dissect the facts of this case and extract some action items that we can use to reduce our risks:
---
015

Company Almost Fell Prey to Industrial Espionage via Flash Drives
Permalink Brent LaReau, designsbylareau.com
Posted: July 19, 2012
After reading a recent news story about flash drives and industrial espionage, I wondered what my consulting clients' employees would do if they found a flash drive in their company's parking lot?
Let's face it: most employees would plug it into a computer to see what's on it. And then a naive little convenience feature in Windows would either automatically run software programs that Windows discovered on the flash drive, or Windows would kindly ask if the employee wished to allow such programs to run. And of course most people would instantly click "Yes" or "OK" without even reading the warning. The end result is that any malicious software (malware) residing on that flash drive would shout "Yippee!" and then install itself on the computer and happily begin its dirty work of uploading passwords and Excel spreadsheets to computers located in China.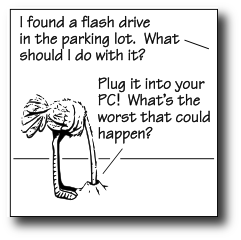 (You can see all of my cartoons here.)
Is this a ridiculous scenario? But that's exactly what almost happened to DSM, a major chemical company in the Netherlands. One of its employees did find a flash drive tainted with password-stealing keylogger malware in the parking lot, but he was smart enough to immediately turn in the flash drive to DSM's IT department. In turn, IT staff members were smart enough to analyze what was on the flash drive instead of just plugging it in like an average person would. The spyware they found was designed to steal usernames and passwords and then upload these to a remote server on the Internet. They quickly blocked the remote server's domain or IP address on their network to prevent data leakage.
Using infected flash drives to smuggle malware into companies has become a regular occurrence in recent years, according to security researchers.
Let's analyze the facts of this news item and formulate some action items that we can use to reduce our risks:
---
014

SWAT Team Raids Wrong Home Due to Unprotected Wi-Fi Network
Permalink Brent LaReau, designsbylareau.com
Posted: July 9, 2012
The headline above is from an eye-opening news story I read recently. You can re-create this disaster in your own home or company. The ingredients are simple. First, go to Walmart, Best Buy, or CDW and purchase an inexpensive wireless access point or wireless router. Second, leave all of its settings in their default state and simply connect it to your DSL or cable modem (or your company's Internet connection). Finally, take any laptop computer, netbook, or smartphone and connect it to the Internet via your new wireless network. No password is required because you haven't enabled encryption!
The only problem is that your immediate neighbors (whether in an industrial park or at home), and even passers-by, can connect to your new open wireless network too. And then use your Internet connection for free. For whatever harmless or harmful purposes they want. And if authorities eventually track the harm to its source, they will naturally find that it's you. And if the harm is great enough, they will send in a SWAT team who will toss a couple of "flashbangs" (stun grenades) into your home or company to get your attention, and then interrogate or arrest your family or your employees.
OK, so open Wi-Fi is bad news. But those of us who HAVE protected our Wi-Fi networks at home and at work actually face the SAME risks as those who have open Wi-Fi networks. This is not obvious at all, so it will be explained in detail below.
Let's examine the facts of this story and derive some action items that we can use to reduce our risks:
---
013

IBM Outlaws iPhone's Voice-activated Digital Assistant ("Siri") as It Leaks Data to a Third Party
Permalink Brent LaReau, designsbylareau.com
Posted: June 4, 2012
After reading a news story about IBM and Siri I began to dig into the details. And the deeper one digs into this Siri phenomenon, the more interesting it gets!
According to Apple and Wikipedia, Siri is an iPhone 4S application integrated into the iOS operating system that "lets you use your voice to send messages, make calls, set reminders, and more. Just speak naturally. Siri understands what you say." Sounds very convenient. So, why is IBM preventing employees from using it? Will other companies follow suit?
The answer lies in the details of how Siri works. We must begin by understanding that a little iOS software application running on a little 800MHz dual-core CPU—which is significantly less powerful than a laptop computer's CPU—cannot decode speech. It takes more horsepower than that.
Next, we need to understand that Siri "knows" what we are talking about only by establishing a personalized context to interpret words within. For example, "mike" can be either a person's name or an abbreviation for "microphone". If we routinely call someone named "Mike" then Siri should know that "mike" is a person with a phone number. On the other hand, if we are a singer or musician then Siri should know that "mike" means "microphone". A little app on a little CPU cannot know these things.
As you may have guessed by now, Apple's Siri software merely transmits our speech, plus a lot of other information stored in our iPhone to establish context, to the cloud. Specifically, Siri transmits our context data, plus raw audio that has been compressed using the Speex audio codec, via the HTTPS protocol over 3G or WiFi to Apple's large data center in Maiden, North Carolina. There, powerful CPUs, large application software, and extensive databases can be harnessed to decode our speech in near real-time so that a prompt, accurate, and appropriate response can be sent back to our iPhone.
Therefore, Apple's personalized context database in North Carolina stores everything our iPhone knows about us, including our address book contents, our GPS coordinates, the names of songs we listen to...
---
012

Does Your Industrial Control System Have a Back Door?
Permalink Brent LaReau, designsbylareau.com
Posted: May 10, 2012
Back in February I had blogged about how 10,000+ industrial control systems were found to be connected to the Internet, even though this violates both "best practices" and vendor recommendations. Worse, only 17% of those systems required a password.
It didn't seem that things could get any worse than that. But now, according to a more recent news story, a researcher has discovered that one brand of industrial network switches and servers that are commonly used in control systems contains a "back door".
Industrial control systems are used everywhere in industrial sectors and critical infrastructures. They literally run the whole planet. Everything would screech to a halt if we simply unplugged all of them at once. Factories would cease production, sewerage treatment plants would back up, and we couldn't even buy a can of Coke.
It's a big deal when they don't work correctly. Aside from ordinary software bugs that can cripple industrial control systems, we're increasingly worried about hacktivism and other terrorist activities causing these control systems to fail in big ways. That's why the U.S. Department of Homeland Security created the Industrial Control Systems Cyber Emergency Response Team (ICS-CERT). Its stated purpose is to conduct vulnerability and malware analysis, provide on-site support for incident response and forensic analysis, provide situational awareness (intelligence), coordinate responsible disclosure, and share information and threat analysis through published alerts. You can learn more about ICS-CERT here.
OK, so everyone is concerned about hackers breaking into industrial control systems. So why did RuggedCom put a backdoor in its Rugged Operating System, which is used in its industrial network switches and servers? A backdoor is a hidden means to gain remote access to a system or its software. Backdoors bypass normal authentication methods. And remote access through backdoors usually isn't logged anywhere, so access is entirely under the radar. Most users have no way to know if any backdoors exist in their systems or software.
You may recall that the 1983 movie War Games was based on the premise that a teenage hacker found a backdoor in a secret government computer system. Real-life hackers like to find and exploit backdoors in computers, systems, and software, too.
Let's break down the facts of this situation and develop some action items that we can use to reduce our risks:
---
011

91% of Small Healthcare Practices in North America Suffered a Data Breach in 2011
Permalink Brent LaReau, designsbylareau.com
Posted: April 16, 2012
While reading a news story about healthcare practices being hacked into, I remembered how my doctor and I had been in a rut for about three years. Once a year he'd say pretty much the same thing: "I see that you haven't signed up for online access to your medical records. Would you like to sign up? It's quick and easy. Then we can activate your online account and give you a temporary password. You can see all of your test results immediately instead of having to wait for us to mail them to you. And you can send me a message any time you wish."
And then I would count to 10 and give pretty much the same reply each time: "No, thanks. I don't want my personal medical records to be accessible on the Internet. I'm a consultant and one of my specialties is information security. I read about data breaches all the time and I'm familiar with how hackers gain access to computer systems."
And then he would pretty much offer the same rebuttal (sometimes with a slight frown): "I'm on the board that oversees our computer security. We've never had a hacker break in. Our web site uses a secure connection and it's password-protected. Most people use it and no one has reported a security problem."
To which I would always reply (after counting to ten again): "No, thanks. Just mail the information to me."
The interesting part is that even though we disagreed, he and I both had factual, self-consistent viewpoints that gave us confidence:

---
« Previous 10 | Next 10 »