| | |
| --- | --- |
| Our Mission: | To reduce your personal and business risks by deriving action items from recent news stories. |
Note: Brent LaReau is your point of contact for this blog.
« Previous 10 | Next 10 »
010

Something as Simple as "Leap Day" Can Shut Down Your Cloud
Permalink Brent LaReau, designsbylareau.com
Posted: March 16, 2012
A lot of people spin cloud computing as something that just works and is totally reliable, while at the same time saving millions of dollars. But after reading quite a few news stories I've learned that cloud computing services often stagger and lurch, causing major losses of revenue.
Almost a year ago I had blogged about how businesses who had moved their computing infrastructure into Amazon's EC2 cloud had lost data during a service outage. Amazon's Elastic Compute Cloud has suffered other failures, such as a network connectivity failure in North Virginia that lasted 25 minutes. Cloud data centers in Dublin belonging to both Amazon and Microsoft were taken out by a lightning strike that caused a power failure. Their backup generators did not keep them running. Google Docs has hiccupped several times, in one case bringing companies to a standstill for one hour who relied on this collaborative tool. Ditto for Microsoft's Windows Live, Hotmail, SkyDrive, and Office 365 outage, which brought its users to a halt for five hours due to a network DNS issue. Salesforce.com has had many outages for years, some being especially severe. Terremark's vCloud Express service went offline for about seven hours. Zoho's cloud platform went offline for 10 hours, leaving customers unable to access Zoho's "suite of award-winning online business, productivity & collaboration applications." The list goes on.
I read that someone added up all of Amazon's cloud service outages in the past few years and calculated what it would take for Amazon to meet their stated "99.95%" uptime goal. Apparently Amazon would need to have 100% uptime (no outages) for 15 years. Ouch!
After reading all the news stories and post-mortem analysis we understand about lightning strikes and incorrect database queries and cascade failures and remirroring "storms" and massive power outages and core network device failures.
But how can we understand this latest cloud outage: Microsoft's Azure cloud service recently went down for two days worldwide, starting on February 28th. It went down because the next day was February 29th instead of March 1st, for 2012 is a leap year.
Uh, Azure went down because it's a leap year? Calendars began to include "leap years" in 1582. So, after 430 years we still can't get it right?
---
009

Why Does the Angry Birds App Need Access to Your iPhone's Address Book?
Permalink Brent LaReau, designsbylareau.com
Posted: March 7, 2012
Some news stories raise my level of concern even though I'm not really involved in the story's main issue. In this case, the news story was about Angry Birds. I don't play games on my mobile devices, so I've never played Angry Birds. But at least I've seen it by looking over people's shoulders. I never dreamed that a game in which we use a slingshot to launch birds at pigs would need to access our entire mobile address book.
Yet the Angry Birds software application for iOS devices (such as iPhone) makes the ABAddressBookCopyArrayOfAllPeople API call, which returns an array containing all of the "person" records in the device's address book.
Other games that would appear to have no legitimate need to access our entire address book call ABAddressBookCopyArrayOfAllPeople too. For example, "Cut The Rope" makes this call. Does feeding candy to a little green monster really require access to our entire contact list?
Digging into this mystery makes things a little clearer (but it's still troubling). Both Angry Birds and "Cut The Rope" connect to Chillingo's "Crystal" social gaming platform so game players can "Send an invite from your local contacts." This explains why these games need access to our address book, but it doesn't explain why Angry Birds and "Cut The Rope" upload our entire address book to Chillingo's web server, instead of uploading just one person's contact information. This does not seem right.
What about applications other than games? It turns out that Citibank's app calls ABAddressBookCopyArrayOfAllPeople too. Why would our bank need to access our entire address book? Several Google apps access our entire address book, too.
The recent discovery that mobile apps such as Foodspotting, Path, Hipster, Foursquare, and Gowalla invisibly access our mobile device data and even silently upload it to various web servers has sparked a huge scandal.
You might think, "It's no big deal. So what if Angry Birds accesses my address book?"
---
008

Students Take Down School Web Site, Create a Fake Web Site, and Send Spoofed E-mails to Get a Day Off
Permalink Brent LaReau, designsbylareau.com
Posted: February 29, 2012
While reading the news story whose headline is shown above, I thought, Wow, students worldwide have been busy hacking recently! It has only been a few weeks since I finished my previous blog entry about a student re-routing his high school's Internet traffic.
In the U.S., people under the age of 20 have used computers and the Internet all their lives. Those under 10 have also been around mobile devices such as MP3 players, cell phones, smartphones, and Internet tablets most of their lives. Most people in those age groups are not self-proclaimed hackers but they have endless time and curiosity to explore every avenue and try every combination of settings, menu selections, or passwords until they succeed. Many devices and computers impose no penalty for failed attempts, so there's nothing to stop these kids. It's scary to see three- and four-year-old kids rapidly navigating through multiple levels of game menus quite easily even though they cannot read a word. So today, even little kids know how to blindly hack their way into simple systems.
Older students have tons of free time, plus they have acquired even more capabilities and understanding of computers, devices, and the Internet. One problem is that most teens don't see anything wrong with hacking into things. A study published in 2010 showed that 25% of teens have tried to hack into other people's online accounts. Of those, 78% admitted they knew it was wrong but did so anyway. Forty-six percent said they logged into other people's accounts for fun, but 20% did it to make money! Twenty-five percent have attempted to log into others' Facebook accounts; 18% have tried to gain access to a friend's e-mail account; and 5% said they had tried to hack into their school's web site. I'm sure teen morals have not improved since 2010.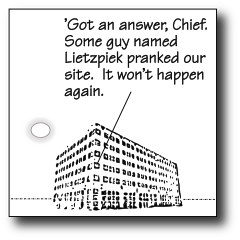 (You can see all of my cartoons here.)
Let's probe the facts of this affair and evolve some action items that we can use to reduce our risks:
---
007

Student Re-routes His High School's Outbound Internet Traffic to His Smartphone
Permalink Brent LaReau, designsbylareau.com
Posted: February 16, 2012
As I read a news article about this subject, I realized that people can do some pretty amazing things with their smartphones. In this case the student had a "rooted" Android smartphone (one which has been modified to give its user complete administrative access to its underlying GNU/Linux operating system). A lot of people, even teenagers, have rooted their Android device to gain full visibility into the operating system, and so they can install powerful utility software that requires full access to system resources such as networking.
In this case the student installed an app called Arpspoof, which is a tool intended for network auditing. The Android version of Arpspoof is based on the original Unix version. Arpspoof is commonly used to intercept network traffic flowing between two other computers somewhere on the network. Such traffic is normally not visible at any randomly selected point in the network because modern network switches efficiently forward packets only along the most direct path from A to B. Tools like Arpspoof were unnecessary before network switches were invented, as hubs broadcast all network packets in all directions, so all packets were easily visible everywhere. But this made networks very busy and many packets had to be retransmitted due to collisions. "Layer Two" network switching is much more efficient.
Arpspoof's name is derived from the phrase "ARP spoofing", which is a network technique used to accomplish traffic interception. ARP is short for Address Resolution Protocol. ARP is normally used by computers on a network to locate each other. Commonly, computers will occasionally broadcast an ARP message asking "Who has IP address XXX.XXX.XXX.XXX?" and the computer assigned to that IP address will reply, "I have it! And my MAC address is XX:XX:XX:XX:XX:XX!"
Less commonly, if a computer's MAC address or IP address is changed, it will send an unsolicited ARP announcement saying, "My IP address is XXX.XXX.XXX.XXX and my MAC address is XX:XX:XX:XX:XX:XX!" That way, all other computers within hearing distance can update their ARP cache. The problem is that an ARP announcement can be a lie (stating the wrong IP address or wrong MAC address, or both) and other computers have no choice but to believe it. Basically, Arpspoof works by broadcasting lies.
If that sounds like some pretty nasty hacking, don't take it too hard. Some public Wi-Fi hotspots use ARP spoofing to redirect mobile devices to a "terms and conditions" page before allowing access to the Internet.
---
006

10,000 Industrial Control Systems Are on the Internet, and Only 17% Require a Password to Connect
Permalink Brent LaReau, designsbylareau.com
Posted: February 6, 2012
I remember reading about the controversy surrounding this topic. One camp had maintained that some industrial control systems are connected to the Internet, while another camp had claimed that these systems are NOT connected. Both camps had mostly anecdotal evidence to support their claims.
What are industrial control systems, and why should we care about whether these are connected to the Internet or not?
Industrial control systems are electromechanical systems used everywhere in industrial sectors and critical infrastructures to monitor and control physical processes. Such as electrical power generation, factory assembly lines, water purification, food and beverage packaging, etc. Lots and lots of these systems are deployed worldwide.
In short, industrial control systems run the world. It would be pretty bad if hackers, hacktivists, or even teenagers broke into industrial control systems. That's why these systems are generally located behind locked doors. Some facilities also have security guards. Vendors of industrial control system components state that these systems should be protected with an "air gap", meaning that their internal communications network should NOT be connected to any outside network. Public statements by owners of these systems repeat their vendors' sentiments, that their systems are "off the grid".
But in the Internet Age the average person probably assumes that everything from Coke machines to skyscrapers can be found on the Internet somewhere. There is an increasing and somewhat disturbing trend towards constructing an "Internet of Things" where billions of things like parking meters and wind speed sensors are connected to the Internet. The rising adoption of IPv6 will make this dream—or nightmare—possible. And the increasing complexity of all systems, combined with decreasing project schedules plus a shortage of highly skilled tech workers, all conspire to put industrial control systems on the Internet after all.
Conservative experts will say, "Why on Earth would you place an industrial control system at risk like that?" But confident experts will say, "Anything is safe if you know how to do it right!" (We assume that "safe" means the use of encrypted communications (VPNs) and strong passwords, at least.) But all of these expert discussions missed the point altogether, as they did nothing to answer the $64,000 question: ARE ANY OF THESE SYSTEMS ACTUALLY ON THE INTERNET?
---
005

More than 80% of Web-based Attacks Target Old Java JRE, Adobe Reader/Acrobat, and Adobe Flash Software
Permalink Brent LaReau, designsbylareau.com
Posted: August 31, 2011
After reading a news article about this topic, I realized it provided some good examples of what I had blogged about earlier this year. In that blog entry, I had mentioned how most malware enters our computers via our web browser using a process called a "drive-by download". To review, a drive-by download is just extra, invisible, malicious content that criminal hackers have inserted into ordinary, mainstream web pages. They accomplish this by simply breaking into web servers and altering web page HTML and JavaScript so that browsers will fetch additional malicious content from other web servers.
Drive-by downloads are not a new phenomenon. Even back in 2008, Symantec's Norton Community Watch observed more than 18 million drive-by download infections.
I had also mentioned that drive-by download attacks only work on specific combinations of popular operating systems, web browsers, browser plug-ins, application software, and runtime environments. But the distribution of popular software changes every year because users will upgrade to the latest Microsoft Office, or will upgrade their Flash Player because their favorite video web sites demand it. Therefore, criminal software developers who wish to continue distributing malware via drive-by downloads will alter their delivery mechanisms to keep up with such changes.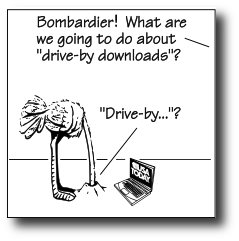 (You can see all of my cartoons here.)
Here are some fairly recent statistics concerning what software is currently being attacked successfully. These statistics were generated by CSIS Security Group A/S and published by Help Net Security:
---
004

Customer Data Was Permanently Destroyed in Amazon Cloud Services Crash
Permalink Brent LaReau, designsbylareau.com
Posted: May 12, 2011
While reading a news report about yet another cloud services outage, I wondered if clouds are gathering on the horizon. In the context of cloud computing this expression can be taken two ways. People who say the glass is "half full" would say this expression refers to the massive adoption of cloud computing, which they think is a good thing. Others who say the glass is "half empty" are referring to storm clouds heading our way, which would be a bad thing.
Businesses that lost data during the most recent Amazon EC2 cloud service outage probably thought the glass was definitely half-empty. Especially after receiving this friendly e-mail from Amazon:
Hello,

A few days ago we sent you an email letting you know that we were working on recovering an inconsistent data snapshot of one or more of your Amazon EBS volumes. We are very sorry, but ultimately our efforts to manually recover your volume were unsuccessful. The hardware failed in such a way that we could not forensically restore the data.

What we were able to recover has been made available via a snapshot, although the data is in such a state that it may have little to no utility...

If you have no need for this snapshot, please delete it to avoid incurring storage charges. So, Amazon's cloud hardware failed; they couldn't recover customer data correctly; they generated a dump of hopelessly mangled data; and they fully intended to charge customers for storage of that useless data dump.
---
003

34% of All Malware Ever Created Appeared in 2010
Permalink Brent LaReau, designsbylareau.com
Posted: February 17, 2011
I've been watching the malware scene for years, but the news headline shown above really floored me. For those unfamiliar with the term, malware is short for malicious software, and it includes viruses, worms, Trojans, rootkits, and other threats. Most people call malware "viruses" even though viruses are just one kind of malware.
Most computer users have felt the effects of malware, or have heard someone's horror stories. That's why this type of software is called "malicious". Everyone knows that malware can ruin our day. Sometimes malware just quietly overrides our browser's home page, or inserts spam web pages into our surfing stream so that we see advertisements for p**nography or pharmaceuticals. In other cases malware can use our computer to silently send thousands of spam e-mails per day. Or invisibly steal our bank account passwords. Or unobtrusively make our computer a member of a botnet, under the remote control of someone in another country who can then use our computer for whatever he or she wants. Such as performing a Distributed Denial Of Service (DDOS) attack on mainstream web sites such as those belonging to the CIA and Twitter (yes, these web sites have been attacked). All of these criminal activities are profitable, which today is the only reason disreputable software developers create malware.
You may be thinking, "Brent is way off base. Most people's computers are NOT infected by all this malware, because their computers work just fine. Besides, anti-virus will protect them. What's the big deal?"
With all due respect, the facts do not support those opinions. Here's why:
---
002

How 3,200 Women's "Secret Questions" Defeated Their E-mail Account Security
Permalink Brent LaReau, designsbylareau.com
Posted: November 17, 2010
The news story that prompted me to write this blog entry is sad but increasingly typical, since more and more people are putting more and more of their personal details online. And they're doing this seemingly without regard for the eventual consequences, probably because few people ever consider that someone—whether a stranger or not—would use such details against them in a big way. In this case, women's lives were devastated by a stranger who used nothing more than their published personal details plus their "secret questions" against them.
As everyone probably knows by now, in online accounts a "secret question" is a question about us that "only" we know the answer to. Such as "What was your first pet's name?". The purpose of secret questions is to allow online account passwords to be reset if forgotten.
Back in 2005, a well-known security figure named Bruce Schneier spoke against the use of "secret questions" in online accounts because these seriously weakened everyone's security. Why do "secret questions" weaken security? Because:
"Secret questions" completely bypass the account's password, rendering the password useless.
Answers to "secret questions" remain the same even if the password is changed.
To a computer, there is no real difference between a complete stranger who doesn't know someone's password, and the actual account holder who has forgotten his password. They're both just people who don't know the password!
Most answers to "secret questions" are actually known by a lot of people other than the account holder (i.e., her family, relatives, friends, neighbors, coworkers...).
Many answers to "secret questions" can be discovered by complete strangers who live far away, by simply reading the account holder's public online "footprint" (i.e., her Facebook page, blog entries, forum posts, etc.).
Schneier's statements prompted a lot of discussion about this topic, but it's almost as if someone else (let's call him "The Anti-Schneier") gave the exact opposite advice, and all of the online services believed him instead!
---
001

Welcome to The Brent Report
Permalink Brent LaReau, designsbylareau.com
Posted: October 24, 2010
I've spent the last six years reading many startling information security news stories. Most of these news stories caused my eyes to widen; then a light bulb went on above my head as I connected the dots; and then I tried to take action to reduce my business risks (and my family's risks too). I often forwarded these same news stories to my consulting clients, professional peers, relatives, and friends, hoping they would be able to achieve a similar understanding and derive similar plans of action.
But I finally realized that merely forwarding a news story didn't actually inform anyone of what the story really meant. And it didn't actually inform anyone of how to react to the news story in a useful way.
That's where The Brent Report comes in. Every entry in The Brent Report security blog will dissect the facts of a recent security news story, and extract some action items that can be used to reduce computer security risks not only in the workplace, but at home too.
Feel free to send me your feedback on these blog entries via e-mail. I'll append your comments and information to my blog entries and give you credit if you give me permission to include your name.
Addendum: You may be wondering why The Brent Report blog doesn't allow readers to post their comments directly, like many other blogs do. You may be thinking, "Doesn't this guy know about Web 2.0?" The answer is that I follow my own security advice! I'm well aware of the constant stream of security vulnerabilities found in WordPress and a lot of other blogging software, which allow amateur "script kiddies" as well as serious hackers to hijack blogs for their own purposes ("lulz", blackhat SEO, comment spam or trackback spam, etc). Why, even PBS.org was hacked and defaced in 2011 due to a vulnerability in Moveable Type blogging software. I'd have to set up a CAPTCHA engine and then watch my blog like a hawk to prevent someone from tainting my blog with extraneous content. No, thanks; I've got better things to do. Just e-mail me, please!
---
« Previous 10 | Next 10 »